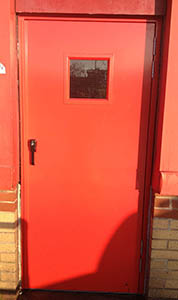 Advantages of a Steel Garage Personnel Door
It is very common place for housing developers to fit a standard specification UPVC or even timber (side or rear access) doors to garages when building new developments. When you consider the value of your tools, bicycles, ladders etc that are kept in the garage it must be considered if these doors are secure enough to protect a these expensive possessions?
What options are available? To upgrade the security on a UPVC door is difficult and usually needs to be designed into the door during manufacture. A wooden door can be fitted with better locks but the frame is the weakest part of the door and can be easily broken.
We consider the best solution is to fit an outward opening steel garage personnel door and frame.
At MDM Security Doors you can specify your door by size (width by height) with preferred locks and choose from a variety of different colours to match your current colour scheme.  Our Steel-tec steel personnel entry security doors are made to measure so you don't need to worry about having to make up to a standard size. All of our hollow metal doors are fitted with an anti-jemmy strip to the leading edge of the door that protects the locks and defends against lever attacks. Each door is fitted with stainless steel roller bearing hinges for long life and smooth action. Six dog bolts, each 17mm solid steel, are fitted to the frame so that even if the hinges are cut off, the door will still remain locked in the frame.
Manufacture time is very fast and the doors are usually delivered to your location in approximately 10/15 working days.
So next time you have a moment just try and add up the value of all the items you have in your garage and think would it be worth changing the existing door for something more suitable such as a made to measure steel door set.
MDM SECURITY DOORS – STRENGTH  IN STEEL