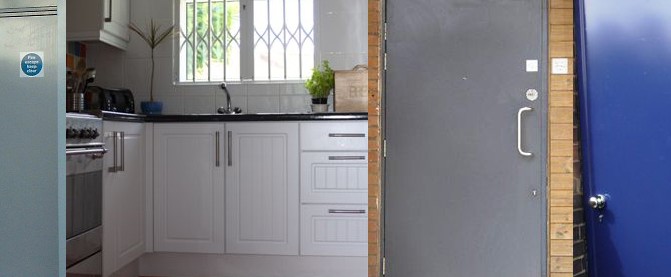 Does installing a steel door add security to a building?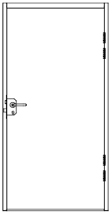 Absolutely! Our steel doors are virtually indestructible. The strong zintec steel door and frame offers exceptional strength. Quality hardware and locks protected by the anti-jemmy strip provide a secure barrier to unauthorised entry.
Are MDM steel doors made of solid steel?
No. Our steel doors comprise of a composite core enclosed within a hollow zintec steel skin. A solid steel door would be prohibitively heavy and would most likely tear out the hinges. Zintec steel is used for the skin of the door. The door is hung within a zintec steel frame. None of the core is visible on the edges of the door.
What is the reason for the steel doors' non-metal core, other than the weight factor?
Remember that steel, and most metals, are remarkably good conductors of heat and cold. This is not something that you want for a door. So the cores act as thermal barriers. In fact, studies show that these man-made materials are 500% better at blocking unwanted heat and cold then are solid wood doors. The core also adds strength to the hollow metal door leaf.
How long does it take to install a steel door?
The average installation of a steel door would take 2-4 hours.
How does a steel door compare to a wood door?
Steel security doors offer a much higher level of security to your premises. Steel doors will not warp, fade, split or crack.
What style and color options can you offer?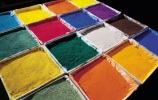 Our steel doors come in a variety of configurations. Single leaf, leaf and half and double leaf doors. Top panels and side panels can be incorporated for larger openings. There is a range of glazing and louvre options. A wide range of hardware will satisfy most requirements. Your steel door can be finished in range of stock powder coated BS and RAL shades. Non stock colours can be obtained. Your door can also be supplied unfinished for on site decoration by others.
Do MDM make fire doors?
We supply fire rated door sets tested upto 4 hours
I'm not sure if I need a fire door or an escape door. What's the difference?
A fire door will resist fire for certain period of time. A fire escape door, it not rated to resist fire but is fitted with escape hardware to enable a rapid passage in the event of fire or emergency. A fire escape door is normally an external doorway. A fire rated door is commonly an internal doorway between rooms.
Do the doors have frames?
Yes, the door sets include a frame and threshold cill. Single doors are supplied completely assembled with the door inside the frame. Leaf and half and double leaf doors are supplied in individually items (doors leaves, frame jambs and door head) for assembly on site. This is for ease of handling.
I'm not really sure what I need. Can you help?
Of course. We are always pleased to give advice. No order would be processed on e-mailed information alone.