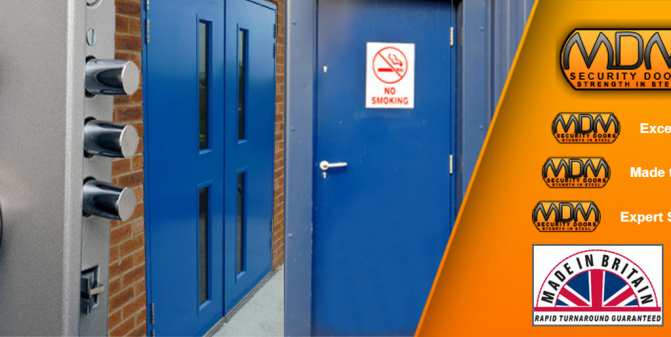 Purchasing a Steel Door Just Got Easier
Buying a security door just got a whole lot easier thanks to a new website launched by MDM Security. The long established Nottingham based company has rebranded in line with their new website.
www.mdmsecuritydoors.co.uk, inspired by business proprietor Paul Marshall, gives users all they need to know about purchasing a steel door and associated physical security products. Explains Paul "professional buyers and tradesman can specify and purchase a product online in a few minutes, however for those that only purchase steel doors as a one off or very occasionally – the site gives a good indication of the range and price of different options available. Users can then phone or email us to go through their specific requirements – we are always happy to advise." Orders are not processed using online information alone. All purchasers are contacted by phone to ensure the correct requirements are obtained before manufacture commences.
As Bradbury Security Nottingham the company is well known in the local area as a supplier and installer of quality steel security doors and grilles to schools, universities, hospitals, housing associations, shops, farms, offices and industrial units. MDM Security Doors offer a door and grille installation service in the East Midlands area. MDM is established in Nottingham, Derby and Leicester. Contracts have also been completed in neighbouring counties including sites in Sheffield, Lincoln, Grantham, Corby and Coventry to name a few. For customers outside of our immediate area we can provide a comprehensive installation guide and in many cases recommend a local installer.
Steel security doors are increasingly popular for all types of commercial, industrial and domestic premises being specified for new builds and as replacements for traditional wood and composite doors. "It stands to reason that a metal door as well as being more secure has a lower cost of ownership in terms of maintenance and longer life than the alternative materials. Homeowners are also replacing existing doors with steel doors to protect the back exit of garages whilst security grilles are a popular choice for protecting patio doors, schools and shop windows" explains Paul.
The new website offers the facility to buy security entry and fire exit doors online. Free quotations can be supplied for the more specialist fire rated, high security, communal entrance and louvred doors. If you are considering upgrading your security please visitwww.mdmsecuritydoors.co.uk.