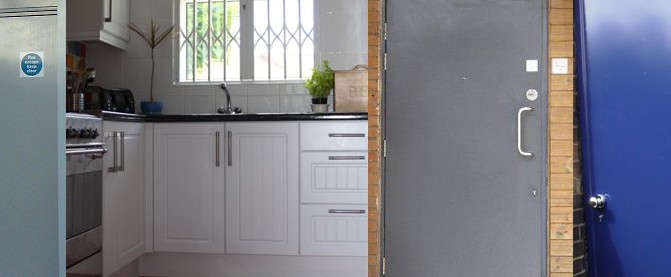 The term "hollow metal" refers to many of those components of building construction that are made of cold formed sheet metal. It applies to a wide range of products, including not only doors and frames, but partitions, curtain wall framing, radiators and convector enclosures, and numerous other similar items. There are relatively few buildings, in fact, in which hollow metal work is not used. By far the most widely used of these products are doors and frames. Since the introduction of hollow metal doors and frames their use has steadily expanded, keeping pace with the growth of the building industry.
Made to Order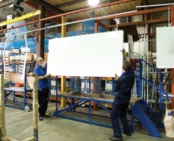 Just as with many other products, the terms, "custom", "purpose made", "made-to-measure", as applied to hollow metal doors and frames, denotes a product 'made to order', as opposed to one that is uniformly produced in quantity and stockpiled for sale. More importantly, it also implies a wide latitude in size and design, careful attention to engineering details and manufacture, resulting in a superior product.
Made to Measure Hollow Metal Doors

In respect to hollow metal doors, however, these terms do not necessarily imply premium cost, as it often does with other products.In general, the cost of made-to-measure hollow metal doors and frames is highly competitive with that of stock products having comparable quality of construction. This can be attributed to the increasing use of computerised machinery in the industry.
Many architects specify hollow steel doors where design character, rugged construction, or quality workmanship is essential. The principal advantage of hollow metal doors and frames is 'design freedom'. There are a wide variety of door configurations and sizes possible with numerous optional extras available.
Purpose Made Hollow Metal Doors
The major advantage of purpose made hollow metal doors is the special requirements can be accommodated by the use of thicker material for either doors or frames, and special reinforcements can be provided. Typically the steel used in hollow metal doors and frames is thicker than that used in products of stock design, resulting in superior strength and stability. Door faces have no detectable seams or joints, all welds being made on the door edge and so finished as to be completely invisible.