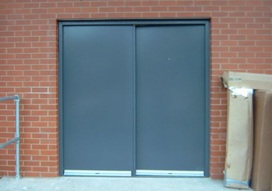 Why Choose Hollow Steel Doors
When you require a new door and frame materials often comes down to this: steel or something else?
Hollow steel doors and frame products have earned an impeccable reputation with architects, design professionals, engineers and construction trade professionals.
Steel is a famously strong, durable and rugged metal but there are additional advantages to bear in mind when you ask yourself, "Why steel?"
Steel provides the best long-term value in the door and frame industry. It lasts longer, requires the fewest repairs, and is sturdier than other products. Steel's natural strength also outperforms other materials in security, fire rating, vandal resistance and more. Hollow metal will outperform wood, aluminum, and fiberglass in demanding environments. Even when those other materials use special cores or other techniques, they are still unable to match the performance and longevity of hollow metal.
Superior Performance
Steel doors and frames have been shown to have superior performance for strength and durability compared to the alternate materials. The superior performance is partly due to the natural strength of steel. In its unaltered state, hollow metal can withstand more natural and man-made abuse and easier to maintain than any of the other materials evaluated (wood, aluminum, and fiberglass).
Security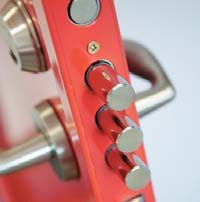 Hollow metal doors and frames offer ideal solutions in settings that demand a high degree of security. They also resist environmental stress such as heat and humidity which adversely impact other door and frame products.
Cost of Ownership
A beneficial byproduct of the strength and durability of hollow metal is the low total cost of ownership. Properly installed and maintained hollow metal doors will provide years of service. As the years pass, steel doors can be inexpensively repaired in the field while softer, less durable wood and aluminum doors will have to be replaced.
When properly installed and maintained, hollow metal doors can often last 30 years or longer. When repairs are necessary, they typically occur in the field at relatively low cost. A result of the strength and durability of steel is that hollow metal doors have the lowest total cost of ownership of any of the materials in a performance comparison.
Environment Impact
Steel is an infinitely reusable material without any loss of function, durability or quality. At the end of their useful life, about 88 percent of all steel products and almost 100 percent of structural beams and plates used in construction are recycled into new steel products.
It is a thought that wood is more energy-efficient than steel. On the contrary; steel doors can be up to four times more energy efficient than wood doors. Steel doors and frames allow minimal air filtration which results in less energy loss between the doors interior and external surfaces. Steel is dimensionally stable and when properly designed can provide an exceptionally tight building envelope for less air loss and better performance over time.