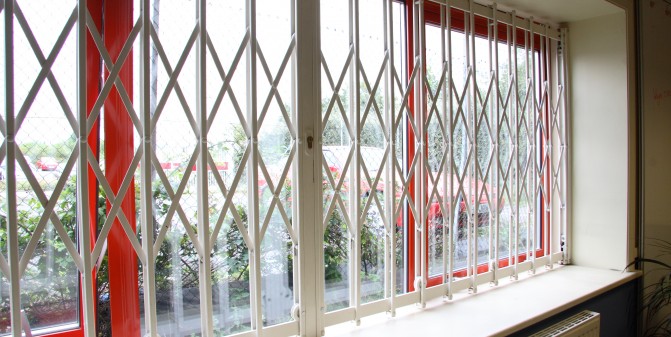 Benefits When Choosing CX Retractable Grilles
Rivetless System for added strength
Traditionally it is the rivets that are the weakest part of any security grille. The CX Range of retractable grilles incorporate the revolutionary 'Crosslinx' interlocking rivetless system that provides a much stronger and attractive alternative to rivets. The 'Crosslinx' system is concealed within the vertical picket bars and spreads the force of any attack over a much larger surface area.
Discreetly stacking
The CX Range of Retractable Security Grilles concertina back to a fraction of the overall size making the grille stacks unobtrusive to the sides of the opening.
Easy to close and secure multi-point slam lock
The patented 2-point slam lock is exceptionally secure and makes closing CX Grilles easy. The grilles are 'slammed' together to lock without the need of a key. Multi grille installations can be operated from a single key.
Strong durable finish in a wide choice of colours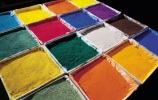 CX Grilles are supplied in a powder coated finish in Traffic White (RAL 9016) as standard. There is the option of a range of alternative shades at extra cost.
Low maintenance
The CX Range of Security Grilles is manufactured from aluminium and zintec coated steel offering a sleek anti-rust concertina trellis. Maintenance is therefore minimal.
Additional Design Features
Incorporated into the specification of CX Security Grilles is a number of specialist features that give the grille unbeatable strength in the face of an attack and ease of operation:
Attack resistant swivel fixings – the verticals of the gate are attached to the top and bottom tracks with swivel fixings that prevent the grille being forced out of the tracks.
The integral full height lead post anti-jemmy security strip protects the lock of a CX Security Grille from attack with a crowbar or other lever.
Maximum access through restricted opening widths can be provided by a swivel return that hinges away the stack to ensure ease of access for pushchairs and wheelchairs. Lift-up and lift-out bottom tracks are also available to enable clear thresholds when the grille is open.
24-month manufacturer's warranty
All CX Security Grilles, in the unlikely event of a quality problem, are covered by a 24-month manufacturer's warranty (providing the grille is fitted in accordance with minimum fixing standards).
The CX2 is Independently attack tested and certified to rigorous industry standards

CX2 Grilles are certified to the industry standard of LPS 1175 Security Rating 1. Fitting an insurance rated grille has the potential to reduce insurance premiums.