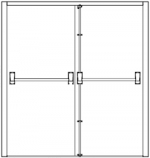 Do I Require a Fire Rated Door or Fire Exit Door?
The term fire doors is frequently used to describe both fire rated doors and fire exit doors but when purchasing a steel door it is really important to understand the difference.
FIRE EXIT DOOR?
A fire exit door is usually an external door providing emergency escape in the event of fire or emergency by means of panic hardware fitted to the door. Options for panic hardware include a panic bar or push pad. Of the two pieces of hardware a panic bar generally suits most applications because it is easily recognisable as a fire exit and can be most easily located in the event of a fire in a room being filled with smoke. Push pads are another option for fire exit doors and are less obtrusive than panic bars. Panic bars are more widely used in public buildings whereas panic pads are likely to be used in commercial premises where the occupants are more likely to know which doors are designated fire exits. You may also find doors with emergency escape sashlocks. These may be found in commercial buildings on doors being used mainly for personnel access and exit. The emergency escape facility enables emergency exit from inside a locked door.
A fire exit door will typically have no hardware on the exterior face as the doorway is likely to be a dedicated fire exit. If a fire door is considered to need additional security, when a building is not in use, deadlocks can be fitted with internal thumbturn cylinders. Some fire exits are used as final exit doors or for personnel access and exit. These doors can be fitted with and external override fitted with external levers or knobs while the internal panic furniture is retained.
FIRE RATED DOOR?
If a door is required to withstand the effects of fire you need a fire rated door. Fire rated doors may be fire exits but fire rated doors are normally internal openings to protect personnel and or property within a building. MDM Security Doors offer fire rated doors that have been certified to withstand fire for a minimum of 4 hours. Independently tested by Chiltern International Fire to BS476: Part 22 1987. Our fire rated doors are precision engineered with a fire rated door closer as standard. A door closer is essential hardware for a fire rated door to ensure the door always remains closed. Fire resistant glazing is an option but will reduce a doors' resistance to fire from 4 to 1 hour. Other hardware and locking on a fire rated door are completely optional and dependent on usage requirements. The most important aspect of a fire rated door is that it has been INDEPENDANTLY TESTED and a certificate can be supplied.
MDM WILL ENSURE THAT YOU ARE SUPPLIED WITH THE RIGHT DOOR FOR THE APPLICATION – FITTED WITH THE CORRECT HARDWARE