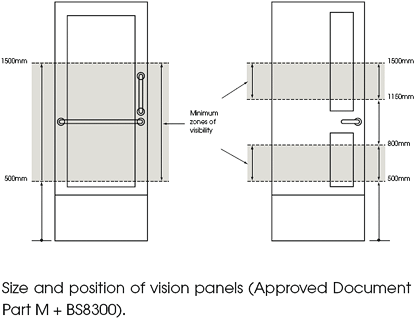 DDA Regulations Relating To Door Vision Panels In Public Buildings
Where glazed vision panels are specified MDM ensure that the positioning of the panels comply with the DDA Regulations – BS 8300: 2001 code of practice.
Glazed vision panels are often used within door leaves to let light into a room, for aesthetic reasons or for safety (i.e. allowing people using the door to be seen).Vision panels should be towards the leading edge and with vertical dimensions including at least the minimum zones shown, either with or without a horizontal rail.
All entrance doors; doors across corridors and within lobbies; and where appropriate internal doors, require vision panels for door leaves and side panels wider than 450mm.
Entrance and lobby doors, other than those to dwellings should have viewing panels to alert people approaching a door to the presence of another person on the other side.
If a door has a single viewing panel, the minimum zone of visibility should be between 500 mm and 1500 mm from the floor.
If a door requires an intermediate horizontal section for strength or to accommodate door furniture, the door should have two viewing panels, one accommodating a zone of visibility between 500 mm and 800 mm from the floor and the other accommodating a zone of visibility between 1150 mm and 1500 mm from the floor (see detail below).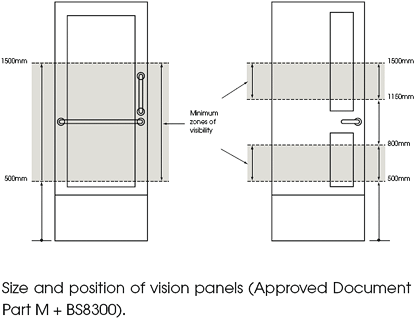 The positioning of the vision panels enables a person of small stature or a wheelchair user (when approaching a door) to see, and be seen by, another wheelchair user or an ambulant person approaching from the other side, while allowing the possibility of having an opaque area across the door to provide strength, or to accommodate door furniture.